The Spanish Trail Motel
As night flew low I entered my unfathomable plea into the radio grafted in the headboard,
brow & jaw untorquing, unlaced
into sweet— a lush reverb around the nature of a wreck I'm off the hook to explain
You go dreaming of those spike strips they pull across the freeway
to slow robbers, or emphatic liars, such was the case,
& as in the rough game you foist upon the baby aghast but lacking words I am lurched toward
lecherous flames in a strange
Maxima, like every other, black bleached gray
by exposure to the sun,
to my treeless, unincorporated life within your green, dewy one,
translating for myself a narrow & machinelike cursive on a matchbook by the flashes
of a ferris wheel rising up over the berm encircling the county fair
Numbers underneath a name, beneath an embossed banner: yellow this side,
black on that, rippled over three gold conquistador's lances
What am I moving through other than this underpass retracted overhead,
snatched bed sheet making vulnerable stars,
ashamed to let what I've unburrowed
record me
in its river stone eyes?
The Spanish Trail Motel
"The keeping of pigeons absolutely must stop"
—Management
Radio or else
the uninvited grinding
tires on the gravel
lot, it agitates the wirebirds who flock inside
these single room occupancies,
who voice themselves out
through rust overtaking an oyster
tin of cigarettes on the balcony smoked mostly down,
to be returned to.
Collapsible & portable faith,
a billboard fades & shreds.
Sanborn's Mexico Insurance.
For the train-quiet arc & lull of sampled
gospel night,
a canopy of scars or misses shot over a lonely square
mile of sleep felt
far enough away like an alarm
& you could dream to it,
filmic glow
of controlled burning.
Ten Peso Burial
For Which Truth I Sign
Pull your waterlogged leather groom
up on the coral, think no more of that particular white
minutely fitful
surface of his body & manipulate his arrows smeared
with alien botanical poisons out
What could I do in your prayer, ancestor,
but ascend, moaning
plume from fading family
in a spirit photograph issued from the cold
parchment viscera of his uniform ink dark in its interment,
your husband the commander of the company of Sinaloa,
frogbelly slit down to the eggs, white meat,
by wagon in a called-off
emergency, pool
of horses that decays hard stop at the excavated steps of Guevavi
Juan Tomas de Beldarrain your husband died there
in receipt of all the holy
sacraments was buried in that church
beneath the altar steps
Here in certain of the late stage dusks I watch
a panoramic blues befalling the Sea of Cortez like a tincture
of boiled down disease,
I can't just drop
a drum beat in him
or salt on him
can't just snip his mouth out
put mine in
Doña María Teresa
Prudhom Butron y Mujica, Viuda, Patrona,
Mother, breathy glass
awareness of
a kiss under a
primeval vineyard murdered by the snow
across an ocean I'm blind to,
a circuitry of probably glass
heirloom jewels vestigial now,
of slaves
from infancy
died still children
wandering
the weirdness of our hacienda,
vine cuttings
Carolina
Leave me just your mummypaper
songbooks, lips like ours that point
to possibly a lack
of oxygen, or call it just a heavy quantum dreamlag,
artifact of which I harbor
like a box cutter blade
in my vestigial mouth
motor neurons
really lost so early
I would ask you to corroborate,
ask the
cathode glowing honey
Will we tire of the water here,
of getting burned,
or sued or picking glasscrumbs?
My mother is an infant
in this picture
on the couch with Carolina
Crossing at Nogales with her easy
declaration "North Italian"
We can get there
in a checkpoint, easy
Not everything is pressing buttons
What we wanted
from the sagging
fiberboard historical
society, wanted
from the leaked
out aquariumscape
interred in a credenza,
defiantly loud
In the Style
of Early Television Makeup
"The Spanish pattern of primary dependence upon genetic & ritual relatives to gain advancement clearly operated on the Sonoran frontier in such a way as to place men of questionable competence in responsible commands from time to time when members of the provincial elite succeeded in obtaining royal commissions for their real or fictive relations. On one occasion, a Spanish priest who was provoked by Beldarrain's callous report of Apache depredations accused him of doing nothing but dance, gamble, & sport fancy clothes."
—Henry F. Dobyns, Spanish Colonial Tucson, A Demographic History
To what extent is one ancestor
you: ebb-exposed & uniformless skull,
skull who evidently once sat for his portrait
on a donkey painted wraithlike
in the style of early television makeup
out shopping at the very
crushed water bottle island
home of stolen children—
fandango fuckboy fuel—
you trawl tonight?
Hat with the extravagant galloon,
bone glitter Sea of Cortez. All
Souls' doesn't Mother go
through every extant sliver of
white matter with your toothbrush,
splice wreckage—uncorrupted digit, true cross, chips
in the figurehead doll's hard recurring eye—
hoist that Feejee mermaid
in your church clothes?
The Spanish Trail Motel
Check for me I'm finally
where I pose no threat
of conductivity, a dishwasher locked out of death's
shuttered dinner show, some sham Polynesian Revue.
I robbed everyone here twice; after two times you're not
a robber anymore.
Let's pawn
what bones,
what precious future jewelry
inscribed on a grandfatherly cannon at the rodeo grounds
that might as well be fake.
I'm here to borrow against the bastard
antiquities I still maintain are worth something,
that I've been hauling everywhere to sell.
Let us sing into the USA Pawn & Jewelry of our lord,
heads down at the pipe organ emoting just a whistle
of sand, this scant crosswalk noise,
this new contract written over that of the pawn ticket,
the residuum of my inheritance, the net worth of any psalm tied up in the right of way
at this intersection,
twilight, misremembered, now.
For more information about this piece, see this issue's legend.
---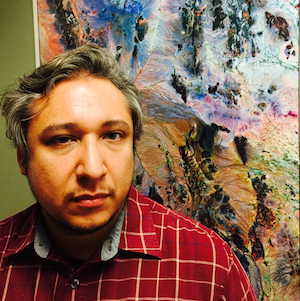 Gabriel Palacios is an MFA candidate at the University of Arizona (poetry). He is at work on a series of poems situated in a hauntological colonial Southwest, a realm of the dead buried underneath mission steps & holy water basins, of loud signage and lax zoning. Recent work has appeared or is forthcoming in West Branch & Typo Magazine.
32.1870° N, 110.9644° W
The Spanish Trail Motel. In its 50s-70s heyday, a posh-ish resort. Also the site of various stings (poker dens, a sex-worker ring involving Tucson housewives) & suspicious fires. Mostly known to us as the sign—rusted-out spoil of a half-assed conquest & impermanent lux, and survives as an SRO apartment dwelling.