my child what fields opened for us what prayers were tried what didn't we have what shapes they made counting us collecting signs what wasn't tried flame metal oil-slicked alluvium what couldn't we crawl through what soft couldn't we reach what abundance the air already paths of us before us winged in all directions the soil horizon gleaming kerosene wooden rollers coal tar before us nothing permanent us turned unborn us counting
∞
us counting clouds of us against us prayers for diminishment we were us in abundance sounds of fire perfume of earth turning to air visible yellow-brown us counted until countless buried in stalks in folds in dirt in slick they gathered us dead boxes earth moving without thinking us anxious us always found in greater or less abundance compare size compare speed compare us to weather compare us to god our acreage aired paths subpermanent thought us scale temporary thought us just signs obsessive paper details ethanol types of wasps my child jars us nets us starving rollers bee-eaters little owls a process pressed dead years after new collection archival the word diminished like poetic like prayer like permanent prayers for us subtle blindness each generation in photos our smiles stay the same size the world never feels we grow fallen accustomed details we know spiders ticks we feel most of us can't name we think we do know god so much abundance soil waiting years us lamented information clouds us cleans us we think us fine only diminished
∞
Subtle blindess as each generation increases. In the photos the fishermen's smiles stay the same size. The world never feels it we grow less, fallen and accustomed. We know the spiders and ticks buried sometimes we feel what most of us can't name We think we do know well the soil covering us, square and deep our god must have had prayers, still our past dwindles us subjects us abundant specimens us waiting decades us lamented solid information absence something we think we've named us waiting diminished we see we still have nets signs temporary starving rollers bee- eaters little owls
∞
justifications: inheritance / age / cancer / debt / extreme weather / dementia / old growth forests /
neurosis / water / emotional instability / plastics / ultraviolet light / illness anxiety disorder /
algae blooms / general weakness / cell phones / snow melt / clinical depression / soil erosion /
privacy / little owls / grief / bee-eaters / loneliness / time / conditional love \ time \ loneliness \
bee-eaters \ grief \ little owls \ privacy \ soil erosion \ clinical depression \ snow melt \ cell
phones \ general weakness \ algae blooms \ illness anxiety disorder \ ultraviolet light \ plastics \
emotional instability \ water \ neurosis \ old growth forests \ dementia \ extreme weather \ debt \
cancer \ age \ inheritance
∞
Things taken as signs and things ignored: clouds, stiffness in my thumbs in the morning,
swollen joints, dreams in which you appear in various sizes, my child,
clicks of my jaw, mood swings, little cruelties, varicose veins, houseplants in
recovery, dreams in which I rock you in a warm house with a woodstove and a
pot-bellied pig, hypochondria, little owls, yellow light I can't quite capture,
that cow parsley is also Queen Anne's lace, that grief does dissipate, that I love you already,
that language will not create you.
∞
It might not be so easy to remember the before. The multitude, the noise. To look at the negative space, to see the flowers made of beer cans and think handwoven flax. The plastic pebbles on the beach are just that. Animals don't discriminate, not like we think they should. The upturned shopping cart painted into the landscape is the landscape. The bowerbird builds and dances. The sheen of petroleum is more luminous than abalone. See how easily we slip romantic? My dear child, how could I keep you from this beauty?
For more information about this piece, see this issue's legend.
---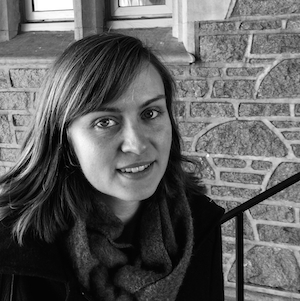 Crystal Willer's poems have appeared in West Branch Wired, The Columbia Poetry Review, Weekday, and Poor Claudia. She has an MFA from Washington University in St. Louis and an MLIS from the University of Wisconsin-Madison. She's currently the project archivist for music special collections at Oberlin College and lives in Cleveland, Ohio.
Suttle Lake
Oregon
I lived here with my mother and her boyfriend when I was eight years old. We stayed in the half-renovated marina most of the time, using the outdoor shower and camp bathrooms. Her boyfriend was a drunk who loved Hamm's and Bobby McFerrin's "Don't Worry Be Happy." I would run away most days and work on building a lean-to shelter with branches and bits of cloth à la My Side of the Mountain. I haven't returned since we spread my mother's ashes around the lake in 1995, but it's a place I long to visit and fear returning to.