A
B
C
D
E
F
G
H
I
J
K
L
M
O
P
Q
R
S
T
U
V
W
X
Y
Z
A
B
C
D
E
F
G
H
I
J
K
L
M
O
P
Q
R
S
T
U
V
W
X
Y
Z
A
B
C
D
E
F
G
H
I
J
K
L
M
O
P
Q
R
S
T
U
V
W
X
Y
Z
A
B
C
D
E
F
G
H
I
J
K
L
M
O
P
Q
R
S
T
U
V
W
X
Y
Z
A
B
C
D
E
F
G
H
I
J
K
L
M
O
P
Q
R
S
T
U
V
W
X
Y
Z
A
B
C
D
E
F
G
H
I
J
K
L
M
O
P
Q
R
S
T
U
V
W
X
Y
Z
A
B
C
D
E
F
G
H
I
J
K
L
M
O
P
Q
R
S
T
U
V
W
X
Y
Z
A
B
C
D
E
F
G
H
I
J
K
L
M
O
P
Q
R
S
T
U
V
W
X
Y
Z
A
B
C
D
E
F
G
H
I
J
K
L
M
O
P
Q
R
S
T
U
V
W
X
Y
Z
A
B
C
D
E
F
G
H
I
J
K
L
M
O
P
Q
R
S
T
U
V
W
X
Y
Z
A
B
C
D
E
F
G
H
I
J
K
L
M
O
P
Q
R
S
T
U
V
W
X
Y
Z
A
B
C
D
E
F
G
H
I
J
K
L
M
O
P
Q
R
S
T
U
V
W
X
Y
Z
A
B
C
D
E
F
G
H
I
J
K
L
M
O
P
Q
R
S
T
U
V
W
X
Y
Z
Whenever we left the house unattended, my parents would set up the automatic timer to make it look like someone lived there. This wasn't unusual, which is to say my life wasn't very unusual. I was lonely, but who isn't? I was like the timer, reluctantly set, living in states of exile and delay, occasionally turning on to illuminate the things people expected to see, as if to say, Someone lives here. Please don't steal anything. Everything is fine. I promise.
In Tucson there was only one gay club and one park of cruising lore. The rest was a closet lit up by cell phone screens. Some of the men on apps or dating sites refused to show their faces—they were usually older. A lot of them lied about their physical attributes. Some stood you up while you were at the bar that never carded. I was in college and living in my parents' house because the dorms were no longer affordable. Naturally, I found my way online, where you could be anybody, behave in any way you pleased. There were some sites where you made an entire profile, some just to chat. There were others just to jerk off. That's where I met K.
K lived in a forest in New Jersey. He had a Tumblr full of sad truisms in nice calligraphy, pastel moodboards, naked men. He was about to go to art school in New York. I thought New York meant cool, and I didn't want to be uncool. When we first started chatting, I lied about my name and said I was still living in Germany (I had recently returned from studying abroad) and had just visited a castle. K didn't bat an eye when I told him the truth maybe a day later. Of course, it had been a ridiculous story. The way we met was ridiculous. We had both come across each other by complete chance on a web camming site, and unlike most encounters there had kept talking long afterward.
K took up all my time and attention. We skyped regularly when I was living in my grandparents' house a few neighborhoods over from my parents' on the outskirts of town. They had bought it one summer, but it would be a few months before they moved in. So there I was taking care of a dusty, empty house with a laptop cradled in my arm, carrying a ghost with me into different rooms. I would be driving while talking to him on the phone and suddenly wonder how I ended up where I did. I would be talking to some friends, and he would send a dick pic at a time when dick pics were early novelties. He was a welcome distraction from daily life.
It was a young infatuation. It was lustful and affectionate, endearing and unreasonable. We talked everyday. Now that we can chat and date and simulate sex online, it's created a new, maybe even false expectation that these are things we should be doing all the time. Separated by distance and age and wi-fi signals, I found myself being virtually stretched. I constantly wondered and worried about what K was doing when he wasn't talking to me. Waiting on him required all the patience in the world because it was so easy to see him, to hear him, if he would only push a button. It became clear that only seeing him on a screen was unsustainable.
The first time I had sex was with K in an overpriced hotel room in Manhattan. The room was small and fossil white, the entire floor shared the same bathroom and shower. K and I had already had a quasi break-up where he had called me the week he started undergrad to say he was sorry, but he thought things were over and needed space. We were already on opposite ends of the country, how much more space could we need? As some weeks passed we continued talking, and I asked if it'd be better if I at least went to see him and whatever happened, happened. He told me that we couldn't think of this as anything other than a really expensive hookup. Yeah, I said, but maybe it could turn into something more. I was buying time. I would have said anything, agreed to anything, to prolong the inevitable. I didn't want to be abandoned just yet.
I flew out from the desert, told my parents I was visiting friends there (I had no friends on that side of the country), took a shuttle from LaGuardia to Penn Station, and walked eight long blocks alone at night in the cold to wait for K at a Starbucks. I should have been more afraid than I was. I had come from a place where the sky was always bright. I had never seen K in person, only through screens, so when he walked in it was like he had truly materialized from the winter air. There were no stars. We spent our first night together huddled on the top bunk in the dorm room he shared with three other freshmen. That was my first kiss, the first time I felt another tongue on my own, my hand on someone else's hardon. Amongst snores and awkward shuffling. We probably thought we were being discreet.
The next morning, aching to get out of there, we went to the hotel hours before check-in and had to wander around aimlessly before coming back. Throughout that trip I remember thinking that this was it, this was when I would become a different person: I would no longer need to keep secrets, to traverse hidden paths, not a single person in this city knew who I was. Maybe I was already different. Or maybe I wasn't, which was more frightening—that I had been the kind of person all along who lies to his parents and travels across the country without explanation.
For the longest time I was irrationally afraid of sex. My high school didn't have sex ed. Instead assemblies would promote the practice of abstinence one week and the next project the horrors of abortion as graphic photographs with the word MURDER! in all caps. One week they split the assembly, and outside a visiting pastor spent half-an-hour talking to all the boys about masturbation as if it were the defining problem of our time.
I was determined to lose my virginity to K, who was also a virgin. It felt like risk aversion. I wanted it to mean something because if it meant something then it couldn't possibly be a mistake. I was taught that sex, aside from procreation, was largely a mistake. That day turned out to be exactly the kind of loss of virginity everyone is afraid to write about. K and I came back to the hotel and not knowing what else to do started removing our clothes. We fumbled over each other, tried to make the act of putting on a condom sexy. Is it inside-out? There was a mixture of pleasure and disappointment—all this talking had led up to this, some strained hours of not knowing what to do, of confused body parts and mimicked functions. I couldn't fit all of him in my mouth to my dismay. I panicked—of all things—whether I should have cut my fingernails which now seemed so sharp as he asked me to push a finger, then another inside of him. Is it really supposed to feel like this? No one mentioned how your teeth might skid off one another, a reminder that you're two skulls clanking into each other, or how you might embarrass yourself because you end up cramping in your lower abdomen, or how you might need to finish yourself off because that was what you were used to. The most important lesson I learned was that the human body was not as flexible as we wished. There were limitations, and K and I were discovering these limitations, what positions were possible and which were not, what could feel good for one of us and painful for the other, a conversation, maybe even an argument, without words.
In retrospect, I was simply worried this was exactly the expensive fling K had warned me of, and that it was a good time only because it was our first time. He was more aware than I was, and I never gave him credit for it, rather, I often hated him for it.
The night before I was supposed to leave, K and I watched Seeking a Friend for the End of the World, and when he cried he said it was because the ending was so depressing, but I like to think it was because he knew we were doomed too.
When Penny (Keira Knightley) tells Dodge (Steve Carell), "I wish I'd met you a long time ago when we were kids," he responds, "It couldn't have happened any other way. It had to happen now," as the asteroid barrels towards the Earth. There is an overwhelming sense of purpose and beauty in doomed things, and I guess K and I were two doomed kids longing for something to annihilate us.
♥
Or maybe that's delusional, thinking your story is somehow unique, that you're the target of cosmic interference. Like everyone I saw on the highway on the shuttle back to the airport. They all believed their lives were their own, but they were all taking the same paths with only the slightest of variations, sometimes towards the same destinations. Everyone was competing for the rights of dramatic narrative. To have narrative is to have control of what is inevitably swerving.
So you could say I swerved into C, whom I starting talking to a few months after K finally ended things. I thought my luck would get better. I met C online. It was a different website this time, one less concerned with NSA hookups and more wishful about LTRs. Somehow I thought this automatically made every user less shallow, including me.
I started talking to C after going from his dating profile to his Facebook, which was too easy, not to mention a little creepy. I paid $1 to message him because we weren't "friends" yet. Every conversation has its currency. At first he came across as assured and indifferent. Then I began to learn he was nervous, plainspoken, used to play football, had large powerful thighs, and really was around 6'6"—who wouldn't go for him? This time was different because we lived in the same city and had our own cars. I didn't think I would have to get another hotel room again, which felt like progress.
We quickly decided to meet. We awkwardly talked at a Starbucks in vague euphemisms and coded language. I realized I had never learned to flirt. You would have thought one of us was straight and didn't know he was being hit on. The new nuclear families—married couples in cycling tights and helmets, the women with their hair dyed, the men with fancy gadgets and opinions about how the coffee was produced, lackadaisically discussing churches and restaurants and a shared hatred of government—they were sitting all around us, and it felt as if we were at the center of a latent distrust. After an hour I made up some errand I had to do, and I thought I had torpedoed our entire first date. A real date, I thought, because he had bought my coffee. I had an impulse to get out of there not so I could vanish but so I could be followed. He asked if he could join, so we ended up at a Barnes & Noble in the mall and wandered the aisles pretending to look through books. I told him he should read one of my favorite novels, but after he said that he'd loved to he put the book back on the shelf.
Maybe a week later my parents left the house I was now living in to go on vacation, I asked C to come over. The whole time I was worried that the neighbors, who once told me about the horse they buried themselves, illegally, when it died some time ago, would see his car, wonder, then speculate to my parents. Whose truck was that? Was that some long distant relative you failed to mention? A boy? A boy at that hour? When C parked, I waited in the doorway and didn't embrace him until he was inside. Earlier I had closed all the blinds and curtains because out there, at night, it was like living in a terrarium.
We watched some horror movie because I knew he liked horror movies from his online profile. Afterwards I tried convincing him we should go to my bedroom, but he didn't want things to move that fast. He was a virgin, and I might as well have been. I remember being annoyed that he was less impulsive than I was turning out to be; my parents always said I was the more reserved of their two children. He left late into the night, and the next morning I remember seeing the neighbors tending to their absurd garden and waving my way.
In the following weeks, C and I made out in our cars past midnight, or stayed up texting. We went to the movie theater that offered its darkness and thus its solitude, and these were the only times I remember holding hands. I blew C for the first time in his car in the parking lot of a ritzy golf and tennis resort. I remember any time I looked up, in fear that we would be found out, I could see the palo verde trees that lined the parking lot, their spindly green branches weighted with yellow pollen, surrounding us. Neither of us could finish because we were too frightened some rich family would spot us and laugh at us with their white teeth.
Every other time we tried to meet up it was in our cars or at his parents' house. Once he made me park down the road at the neighborhood park. He told me where I could sneak out the window of his room and escape along the side of the house in case his parents showed up. They never did. He had come out to them but as bi, which they either didn't believe was genuine or gave them just enough hope to believe he would turn out "normal" again. Normal like everyone else, couples who had eviscerated the history of love. Had my parents ever mentioned who they had eyed, dated, and broken up with before they had met each other? Did they scorn them, did they miss them? I both scorned and missed K, I couldn't leave those feelings untouched, I was afraid the overgrowth of time would bury them and I would become indistinguishable from the flat landscape.
C was reluctant to take off his shirt. In fact, I don't think I ever saw him shirtless. When it came to sex he was alright giving blowjobs on his family sofa, but as soon as we were in his room he became tense. He didn't want foreplay and was annoyed if I tried initiating anything during whatever movie was playing. Once, when I suggested rimming, he said he wasn't into it. When I asked him, directly for the first time, to take off his shirt, he said he didn't want to. When I started talking dirty, he didn't respond. As if, since learning of my own inflexibility with K, now I had become so limited that I could only perform a certain number of actions, the appropriate actions, according to C's likes and dislikes. Of course, when we took turns trying to penetrate each other, he ended up bleeding.
Later, when he stopped taking my calls and ended things over Facebook, he wrote that he didn't feel we were compatible. He listed that I liked 90s music and he liked Top 40; he liked fast food and I liked cooking; he had no idea what he wanted to do whereas I wanted to move out of state and be a writer; we wanted different things out of sex. I would have laughed if I had any idea what he was talking about. I got the sense that what he really meant was that I brooded too much while he wanted to be happy no matter the cost, even if it was pretend. These things seemed so juvenile. What did he want? A clone? I had never experienced someone turning the things you liked about them into reasons why you should no longer be together.
I ended up going to where he worked twice, asking why he couldn't talk to me. I once stood there and watched him try to ignore me while interacting with oblivious customers. It was obscene and I regret it now, but I'm also not surprised. I was trying to maintain a life full of covert personas: one might have been out for brunch with friends while at the same time another was across town sobbing in his car outside of a Walmart where his ex-boyfriend worked, when the parents would text, asking if the poached eggs were any good.
I drove to C's house again, too, parking where he had once showed me to park and waited there, thinking this is how it starts, how you lose your mind, how you become a stalker, maybe something worse. Or maybe I was acting out because I wanted my life to be like the stories we write and read. Like the reality murder cases and televised trials my mother watched. Maybe I was afraid I was like everyone else and this was the dumbest story anyone would ever read. If you grow up in the closet, it's hard to imagine how many stories are out there and how many you're excluded from. I often forced myself into other people's stories. I once had a mentor ask me, when I said I couldn't write a story about the dead because I didn't know anyone who had died, if I had been dumped. I said yes. He said that was enough, the rest was extrapolation. Was I merely extrapolating from the lives of others, swapping out genders but adhering to the same rigid norms, to similar shames? Everyone, including me, seemed obsessed not with being with someone but with finding someone to be with, finding one person to be with.
C broke things off and eventually moved to Phoenix, got engaged around the year same-sex marriage became legal in Arizona, then broke off that engagement. I used to joke that he had rebounded so far he wanted to marry the first thing that moved. I used to be interested, but I've since realized that story has been recycled before on end.
Right before the end, though, I met him in his neighborhood park, the one where I would sit in my car and wait for him to text me the all clear, or, later, would watch his house for any sign of life. We talked and made up but knew it was over. The palm trees, at night, looked menacing. But even the palm trees were brought from somewhere else at one point in time. Everything, if you think about it, is a kind of artifice. We reclined, side by side, on a thermoplastic table. It was so uncomfortable, every bump digging into our backs and legs, but neither of us mentioned it. We bore its pain, holding hands until we could no longer take it. He wanted to remain friends. He tried rolling on top of me and giving me an exaggerated kiss, and it was in that moment I knew it had all wilted. I had only ever been a friend to him. Like the palm trees, only the frayed edges remained.
♥
One of the only people I could talk to about what I was going through—that I was trying to see people, and men at that—was my best friend P. P was straight. After telling him about K and C, I remember him saying, It's terrible because I know you have so much to give. This idea of giving came up a lot in our school or the churches we bounced between. Lots of talk about being vessels of the spirit. All I could imagine were vases grotesquely, continuously filled to overflowing. Being a vessel felt like a body horror, being filled and emptied and refilled by a divine power, most likely against your will, waterlogged, fragile, susceptible to shattering.
I hadn't been in a youth group for some time, but I was also pretending to go to a different church than my parents' on Sundays so they wouldn't harass me about it. Sometimes I did actually go. Other times I would drive around town or go shopping or read at a café to pass the hour, two hours I needed to waste before coming back home after my parents had already come back from their church service. It was a tricky business. I had already come out by this time, but my parents still thought, at least hoped I was leading a kind of monastic life.
Around this time I met B, who was the furthest from such a life. B lived two hours away in Phoenix. We had met online the same as C. But B had already been in several relationships or had had many friends-with-benefits. B had had far more sex than me or any of my exes. He talked a lot about how he had several kinks. He was particularly proud of himself. He bragged about the curvature of his dick, frequently referred to himself as being attractive. I was attracted to what I thought was brazen behavior.
B, unlike C, bought a copy of my favorite novel and started reading it while working at a realty company office. He said it was interesting, and I believed him. He once sent a pic of himself with the book on his desk. Then another of him in the bathroom mirror. Then another with articles of clothes missing. Then jerking off in the work bathroom, or at least starting. He was so vain I started to think something was wrong with me, that I was somehow at his mercy. But I didn't want to be what I had been raised to be: a prude.
B convinced me to make a trip to Phoenix and stay the night in a hotel room that he would pay for. The concierge was our age but clearly over us—he made a look to his coworker like he had seen this thousands of times. That we were copying the behaviors of many before us. We went into the room, but as soon as I put down my backpack, B said we had to go to his aunt's house to feed their animals. The house was in a neighborhood near the highway. It was dark, and the moon stripped us of color. We entered through the unlit garage, and he never turned on any lights. The animals were some dogs, some cats, and a bird. Floating green marbles for eyes. It smelled like a pet store. The carpet was thick, the kitchen cluttered. I thought I was never going to see anything else again. I wondered about B's aunt, who he said didn't know he was gay but still accepted him after his family in the Midwest kicked him out. Now she was harboring all sorts of strays. B came back, and again I felt this was where I was going to be trapped forever. Maybe in this room, this house at night. Maybe whatever room in which I had constructed and entrapped myself.
But B said we were good to go, so we went back to the hotel room that was on ground level right next to a busy passageway between buildings. I heard footsteps and noticed passing shadows as we had sex twice that night, and he made me do things I didn't really want to do, and he refused to do other things for reasons unknown to me then. Eventually he would tell me his uncle in the Midwest had sexually abused him. From then on being with B was like a game of Operation. Careful not to touch the Funny Bone, the Adam's Apple, the Broken Heart! This was around the time I was groped by a man at my retail job and didn't tell anyone, including B. I told myself it wasn't a big deal, the man had come up behind me and grabbed my ass with one hand, my neck with the other, it could have been worse. I didn't confide in B because I felt my violation paled in comparison, and once I began to compare us I realized that we never quite aligned. Once he refused to hold my hand in public. Once he wanted to tie me up and I let him. Once he coerced me into attempting sex with him in the car. We parked in a leveled plot of land cornered by a wash, the loading zones of a strip mall, and a roaring auto shop. He wanted to go down on me, but all I could think of was that I had been in that strip mall, and that auto shop was where I got my car serviced. Then a police patrol pulled up behind us. It waited there, the windows tinted, idling. I was terrified and threatened and angry with B, especially when, after we drove away, he thought it was hilarious. It wasn't long afterwards that he simply stopped responding to texts or calls, and for all I knew he could have been dead.
Then, weeks later, B texted me. So he was alive. He apologized (as if he had been inconvenienced by a delay in transit) and suggested I go to Phoenix again. That I book the hotel. For whatever reason, this time felt the most like a transgression. I could afford the hotel, but not the blasé attitude with which he expected me to run to him, money and forgiveness in hand. I had stayed with him, I realized, because I thought the survivor of abuse needed healing, and only I could heal him. It was messianic and naïve, and, while I ended up despising B, the reason I canceled that booking was because I began to despise myself. Part of me wishes that I hadn't told him about the cancellation so that he would have stood in the lobby alone with—if only!—the same concierge to silently ridicule him.
♥
There was a moment in every one of my breakups that contained a sliver of satisfaction. Like successfully pulling a splinter out of your skin. In truth, I liked being sad. It made it clear to others that I was not okay, that I was openly questioning the world. I thought it set me apart from the mediocrity that accompanies happiness. I was collecting these splinters because I thought I had wasted, was denied, my time growing up. Nevermind the pattern that was emerging, and patterns are ways of obliterating time. I was a serial monogamist, which is another way of saying I was emotionally sadistic. I treated every one of my relationships as if they were a high school sweetheart or a soulmate. Ironically, I had swapped one religion for another: the cult of romanticism. I was raised to admire people like my parents who could find someone—their "opposite" they would say—and be with them for decades. I often wondered if they had become non-denominational Christians in order to relinquish life's complexities, its mess. Had I become agnostic for the same reason? Maybe I was afraid of getting my hands dirty.
Any amateur psychic could have envisioned what happened next: L and I met online. I took my profile way too seriously whereas L's was a complete joke. By some ultimate grace he responded to me. We were almost 900 miles apart. Things moved fast. And that's usually how it went.
I was a candidate for a graduate writing program, packing up for San Francisco, ready to leave Tucson and 100-plus degree summers behind. I told L that I would be driving through Los Angeles to get there, so maybe I could stay for a few days. We hadn't met in person. We had been talking for a month before this trip, a trip I would make in the most heteronormative minivan, route mapped, audiobook of Lolita narrated by Jeremy Irons cued up, and motel room waiting. I had never felt trashier in my whole life.
I finagled my way into obtaining the minivan. My credit card line wasn't enough to cover the rental expense. I told my parents that I was going to spend an extra day or two in Los Angeles in order to see a friend from undergrad who was going to drive up from San Diego to see me, a complicated lie I followed up on with said friend in case she was asked (that was how much I worried about my mother, who once worked for the CIA, snooping). The day before I went to the car rental, my grandparents offered to pay for all travel expenses, which put me a little more at ease and struck me with guilt.
None of them knew about L, or that I was actively dating. I had only come out two years prior, but that still didn't stop my mother from inquiring about certain female friends who happened to be single. Perhaps she was still trying to disentangle herself from the vision she had always had of her son and this relatively new reality she was being forced to watch unfold in her house, on her very driveway. I never told her or my family that I had already been in a few relationships the same way they didn't tell me about the self-help books for parents of gay kids they had stacked on their nightstand, or about the email chain in which, when I came out, friends of theirs expressed sympathies and offered prayers as if I had died. I guess I was really the one snooping around.
♥
I drove on lesser traveled roads to the highways that, as soon as I crossed the state line, I would be expected to start calling freeways. I drove past alfalfa fields and the state prison in Florence. Then through Phoenix, which had been the nexus point for C who ended up moving there and B who moved away from there. Then the long stretch of I-10 to Los Angeles. Around this time, Humbert and Dolores are also trekking the country, staying in arid motels that Humbert calls "clean, neat, safe nooks, ideal places for sleep, argument, reconciliation, insatiable illicit love." Their world is so tiny. Maybe that's why I went to Manhattan, why I was going to Los Angeles, to emerge into larger worlds.
It wasn't until I got to the motel I had reserved that I realized how much larger the Los Angeles area was than what I had imagined. I was not in fact in Los Angeles but in Corona, a commuter town once called the Lemon Capital of the World. I saw no citrus trees, only wretched shrubs, strip malls, chain restaurants, and the smog left behind by semi trucks, the heat that pulsated over concrete, orange cones. It was as if some apocalypse was in the distance as everything here felt muted and mundane and on the verge of collapse.
I blasted the air conditioner as soon as I got in my room. I drew the nasty curtains. I waited. L couldn't meet me until the following morning. His mother was also not aware of the strange situation we found ourselves in, and his father was basically out of the picture.
In the meantime, I called a lawyer with whom I had an appointment and had a conversation that was recorded. Months earlier I hit a bicyclist with my car. Actually, the bicyclist had hit my car, he had been going the opposite way of traffic and ran into the side of my car when I tried to pull out from a parking lot onto the road. In the end, he was given a ticket. Now this same man was claiming unforeseen damages to his body. I had written down an account of the scene as best I could with the most boring, bureaucratic language I could summon. Somehow I thought if I were to use anything but that kind of language the lawyer would think I was lying. No metaphors, no adjectives, no imagery. I tried to recall every detail of the incident the way you might go through a drawer sorting knickknacks. The lawyer told me the bicyclist had been known to do this kind of thing before. A kind of scam, I need not worry.
Sitting alone at the table, the curtains drawn, the air conditioner rattling, talking to a lawyer who remained quiet and unreal while I was recorded, I felt like I was allowing myself to be interrogated for someone else's sick pleasure. A kind of self-flagellation for my current situation: I had had so many secret relationships and rendezvous and alibis, I needed someone, even this chance lawyer, to know that I was capable of telling the truth.
♥
The next morning, L's best friend drove him to the motel. I remember being very conscious of the decision not to look out from behind the curtains to see the car pull up and for L to get out and walk up the stairs to the second floor and approach my door. I sat on the bed and waited. It was so pathetic, my rigid posture unnecessary. I wanted the knock on the door to startle me.
People who know us often say how our faces look alike. Family members would swap our faces on their phones and point out a resemblance. The broker who would eventually find us our apartment in San Francisco mistook us for brothers. I don't really believe these people, but that day I did see myself in L's position. I had been exactly where he was now, on his way to meet someone for the first time, parents in the dark. And when I opened the door I saw that same raw intensity of desire that contains impossible aspirations. When he told me he was "technically" a virgin, he became my gentle doppelgänger.
Later L would jokingly tell me that he had told his best friend if she didn't hear from him, he had probably been murdered. It was a joke so common amongst my feelings growing up. Anyone could have murdered me if anyone had been the wrong one. Which is why I never connected with men who were older than I was. Now I was the older one in the position of potential murderer, even jokingly. Though I saw myself in L, it was a much younger self, and I realized that maybe my problem for the longest time was expecting that I should never change.
We sat side by side on the bed and said how crazy it was being there like that, and after fooling around for a bit we realized we didn't have any condoms or lube. Are you sure? I asked. I was suddenly nervous like I was doing something wrong. When we went outside, we crossed the parking lot to a convenience store, but they only had condoms, and the woman working the counter eyed us like we were casing the place. We got in the minivan and went to a pharmacy where we needed to ask for assistance to open locked cases. We couldn't have been more ridiculous, and we laughed about the woman that had helped us and her reserved Mhmm's when we pointed to what we wanted like she was reluctantly giving children second helpings of dessert.
And that is how I would describe our day together: cloyingly sweet. The stomachaches, the distaste in our own delight would come later, but for now we took pleasure in being there in the flesh and sinking our teeth into it. Of course, L didn't know what he was doing, but it's not like I knew much more. I even confessed that I loved him. He said it back because he didn't want to upset me. I shouldn't have said it. It was an unfair lob and it lingered over us for some time, the time between me moving on to San Francisco the next day, my visits back to Corona, L's visits up to me, and eventually the time when L agreed to move in with me. If we tallied how long we had really been together (in person) it probably didn't amount to more than thirty days.
♥
Most people found out about my relationship with L online, too, in a kind of karmic reversal. I updated our relationship status and began saying "we" in texts. I had accidentally forced L to come out when we drew his mother's curiosity to the things we commented or liked on Facebook. He told her about me. I hadn't given my mother that courtesy. Instead a mutual acknowledgement seeped into conversations between me and my family. I still don't think I have ever officially stated that L and I are together. It's become a given, second hand knowledge. And somehow that's good enough.
After two years of long distance, L moved up to San Francisco and we found a studio in the Tenderloin. L said we should burn sage to get rid of evil energies. The day we signed our lease we also discovered that in the basement, where the washing and drying machines stood, the infamous Night Stalker had murdered a young girl in the 80s. When I told my friend this from back in Tucson, he said, Knowing you, you probably think that's a bonus. I adored these little details, I thought they could make us exceptional. I was tired of hearing everyone's answers to the question, How did you two meet? We didn't have an answer that felt exceptional. For a while L and I never said we had met online, we made up our own story. I didn't mind saying we had met online as long we altered the timeline so that I wouldn't appear so rash. L didn't want to say we had met online. He wanted to say I was friends with one of his friends who was an English major and that this friend and I had both met in a literature class. L and I never figured out how we actually met though. At a bar? On public transit? At work? Some elaborate scenario? People like us didn't seem to have the luxury of coincidence. Meeting online was the result of algorithms beyond our comprehension. I kept wondering why L harped on about this so much only to remember that I had done the same thing by always lying about where I was, who I was with, what I really wanted.
I wanted L and I to have our own place for the usual reasons, but for me it also seemed like a way to preempt past experiences. I hadn't expected our long distance relationship to last, but then we signed the first lease that we could snag. It all happened so fast we forgot to check the floorboards for rot and the windowsills for mildew, the oven that couldn't go above 350 degrees, and the light fixture that fell from the ceiling and almost hit my head the next day. We weren't used to being around each other all the time, it was relationship jetlag. When we finally acclimated, we adhered to new patterns: working, fretting about money, wondering when we would move back to Southern California. I had promised L that we would only stay for a year, then it became a year and a half, then I wondered if I should find a new job in order to save in order to leave. The floorboards kept creaking, the mildew always returned. It never felt like a home. We rarely said it, too, that we were on our way "home." We avoided that word because if we said it we were afraid we would be stuck there.
I had grown too fond of transient rooms, hotels and motels alike. They were always by the side of some road or near an airport. Each room not much different from the other. There is a level of expectation not found in other parts of one's life. The same mini shampoos and soaps, the same bedspreads, the same tacky framed prints on the walls—only the slightest variations of these things. They are void of particulars, no memories, they strip humans down to their essential functions. Human scaffolding. You're reminded you're an animal thing, and that, maybe, you can survive this world without particulars or memories or even niceties. You can run off instinct, and there is a freedom in that. When you check in you can act as whomever you wish you were: someone with less baggage, more money, a clue or two as to the trajectory of this sad life, that maybe it doesn't have to be so sad. Or maybe it's the only place you can relish in being sad, a comfortable melancholy that no one questions. Such a room can be an oasis. Or limbo.
Was that all this was then? Another way station? I've always moved away from the people I cared about, or they moved away from me. This was something new. Now we wanted to leave the room behind and find something else. And whatever it was, it was terrifying. There was nothing waiting for me. When we started the process of moving, I began to see how a person is really nothing at all. I cancelled the internet, the utilities. I had to find healthcare. The only keys I had left were for the moving truck's padlock that would become the storage unit's padlock. No job lined up, no car, no state ID or driver's license. It was like becoming a whole new person.
Now we're moving to Los Angeles, but first we're moving back to L's hometown. And because we don't have enough money to immediately buy cars and float without jobs and find a place to call our own, we have to live with his grandparents for a few months. It's like a hotel someone else lives in year round, but this time we're together. Albeit in separate rooms. We have to keep up the ruse that we're "just friends"—his grandmother introduces us this way—and that we lived in a two bedroom apartment in San Francisco. No one is fooling anyone. L's sister told us that their grandmother is okay with L and I, so long as our "lifestyle" doesn't get "too loud." In other words, she doesn't like it when we are too visible. And yet the only reason I can survive here right now is because of the generosity of these grandparents. How does one reconcile being both kind and prohibitive at the same time? We don't have answers, we're trying to figure out who we are as people, two people together, divided by walls both real and imagined. For whatever reason we take part in these games because it's easier, so we don't have to deal with the mess of defining who we are, or how we met, or how we dress, or how and who and why we fuck or whose business that really is, or if we believe in marriage, or what our future holds, or why we're expected to have something to say about everything like we are the one thing in this world that cannot be taken for granted. The stories never seem to change, they just get rearranged differently. We like to think that one day they will align so perfectly we can walk down their halls and not be forced to take turns into labyrinths.
One of my exes used to have a quote on his online profile: To the world I am nobody. But to somebody I am the world. It's a romantic self-loathing that I frankly don't have time for, and it should be put to rest. When people say "you're one in a million" to mean you're unique to them, what I hear is that you're lost in a crowd. What I hear is that the pattern has consumed you. But I don't want to place that impossible standard on you. I don't want you to have to compete with the world. It's enough to know that we don't need a story that matters to anyone else as long as it matters to us. And that's what I call love. You might have emerged from a pattern, but you're a knot in that pattern, and that knot, at least right now, seems impossible to break.
For more information about this piece, see this issue's legend.
---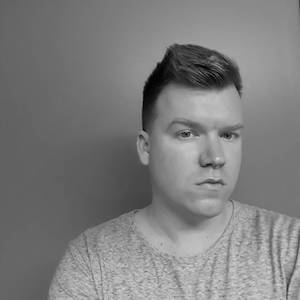 Colter Ruland lives and writes in the Los Angeles area. His work has appeared in Cosmonauts Avenue, Fiction Advocate, Goodnight, Sweet Prince, The Thought Erotic, Switchback, and elsewhere. He is working on his first novel.
Hafengasse
The street I lived on in an old refectory, and where, a few buildings down, stood my favorite café. Inside there were no chairs, only counters. Elderly men and women stood side-by-side reading newspapers, drinking bitter espressos in tiny cups, and no one ever talked.