o , ecstatic plenitude in my good head
I wake up to the churning of my heart's shallow water ,
lustful and prostrate beneath the tortured lights
of unity . we're non-stop distinct
as we touch adulthood's dripping wrist ,
its neon wet neck , as we negotiate
the coupling that has us draped
from wire hangers .
real love is such syntactic change ,
twisted in the melodramatic glare
of our grabbing despair by the foot ,
dry-heaving towards the pornographic .
under the face's blue weight , you think
the heart is good without these gifts .
you think how in the brain's red birth
the chest comes forward , the eyes click ,
the two-party situation is established ,
then the lips begin their scrambled flashing .
For more information about this piece, see this issue's legend.
---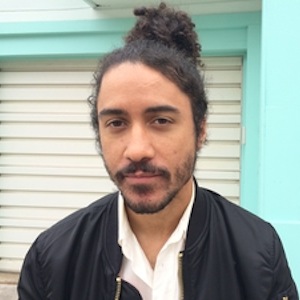 Benjamin Krusling is an artist and writer from Ohio. He has a chapbook, GRAPES (Projective Industries), and recent work has appeared or will in Black Warrior Review, Washington Square Review, The New Inquiry.
Popeyes Louisiana Kitchen
125 Canal St., NYC
I go there with people, watch the skaters go by.
love for them moves me to silence.
then, it's always sunny on the corner, there's the park.
there's the arch and the bridge to brooklyn.
sometimes I sit with families I don't know.