It wouldn't be right to call these found documents. It wouldn't be right to call them documents at all, seeing as I came upon them carved into the snow on the morning of my last night in Antarctica, where I stayed for the two years following my divorce. People asked me, "Don't you want to leave?" People told me, "You have to leave. There is a whole world." Only after they stopped speaking to me altogether did I become exhausted with blankness, the opaque and firm whiteness, and call the American base to ready the warm belly of their C-130 Hercules for one more passenger, a cold one, a woman who had not for a long time even attempted to get warm.
By that time I had made myself indispensable to those geologists whose sole goal was to collect the astral debris that fell on the fresh snow of the continent. I had wandered into their blue tents one day, snow-blind and lost, and begged for shelter. The rule here is that you give when asked. I stayed for seven days (they report) curled by a space heater, staring at the scientists as they donned their jumpsuits and goggles and charms that they strung around their necks or wrists or stuck in their pockets. The tent flap opened. They disappeared. Some incalculable time later, they appeared again carrying several sealed plastic bags under their arms. I watched all this with something akin to hunger. Then, on the morning of the eighth day, I stood and told the scientists I was ready to accompany them. They were so taken aback to hear me speak that, inadvisably, they let me. Someone pulled out the ratty extra jumpsuit and a pair of cracked goggles, and I followed the wary crew out into the snow.
I watched the scientists roam in precise geometrical patterns across the white plain, bending occasionally to look at the ground before shaking their heads and straightening again. Only twice in the course of three hours did they find something. Each time, the victorious scientist held up a bag bulging with matter and whooped. The others yipped across the ice's silence. Then they fell into their pattern again.
In the fourth hour of our search, I set to looking. After thirty minutes, I had found seventeen pieces of interstellar debris. I walked from one to the next, following no discernable pattern Sometimes it seemed that I could sense a speck from as far as one hundred meters. I'd walk to it, pick it up. The scientists would stare. They would rush to me. By the end of the fourth hour all six were following me, hunched in the shadows of my footsteps, struggling to see how I saw what I did.
It was not long, as I said, before I grew indispensable. I found meteorites the way a dog finds shit, one of the men liked to say, and I was not yet sufficiently reattuned to the contingencies of conversation to perceive an insult in what he said. I suffered some amnesia after my divorce, I mean to say. It was strange the things I remembered, and the things I became able to do.
I grew to be a fixture in the tent. Someone made a bed for me, and a shelf, and a space in the hole in the ice outside they called the refrigerator. The arrangement seemed natural. I woke, they followed me, I pointed to the star dust, they picked it up. Every couple of days someone would gather the plastic baggies we had stacked beside the doorway and disappear with them. A snowmobile's engine would kick to life, then fade. I knew the specks I found were prized, but never that I was prized. Something in me halted at the idea that I might be able to contribute something.
To what? The inevitable, hollow world?
Two years passed this way. The scientists came and went, but I remained. "You need a rest," they said. Only the most seasoned hands lived on the continent for an entire calendar year. But I stayed, and I showed no signs of waning health. On the contrary, my vision had even improved. My eyes, they muttered, were green, glowing, wild. I did not take their resentment personally. I considered the eyes to be quite separate from me.
Every day I went out. Every day I discovered more space material, in this sector and that, and the horizonless expanse of snow continued to work on me. Though I was always walking toward a thing, that thing was always finally removed from its divot in the snow and it was up to me to find something new. I did so. But the endless nature of the plain sent me, emotionally speaking, barreling forward into an unprecedented experience of blankness.
Emptiness is a romantic idea for some people. For me it was simply the only remaining way of life.
On that day when the blankness ended—how did I know it had ended? how does a baby know it's born?—the scientists had already begun to act differently toward me. The light went out of my eyes, they said later, and into my previously stiff, uninviting limbs. I slipped into my tattered jumpsuit. I folded back the door of the tent. I wandered out into the snow, alone. I wandered for a long time, though there were no more meteorites left to find. There were only these words inscribed in the distance.
They were written into the continent between long swathes of white, as they are below: I followed and followed. There was snow. There were words, and I wrote them down.
The vans escorted the unwanted to the farthest reaches and dropped us off. On the far horizon were white craniums bursting from the snow: our homes. On the near horizon, the hard-faced drivers dipped and disappeared.
We were alone. Nine gave in, eventually, to the cold. Two of us survived, warmed as we were by witlessness.
We lowered our heads, he and I. Arm in arm, we pretended there was no wind. Soon enough there wasn't.
Inside the plaster cranium, we cast about for warmth. I loosed my parka. The white walls were white against my prickled skin. And inside the walls, spread on the carpetless floors, were the accoutrements of a former life.
We recognized those. The furniture was both of ours, though before the continent we had never met.
His name was Hank, he said, holding out his hand.
Mine, I said, was mine.
EMPTY
EMPTY
THIS IS THE PORTION THAT IS EMPTY, WHEREIN READ THE BLANKNESS OF THE SNOW
[FOOTPRINT FOOTPRINT]
DOUBT NOT DOUBT
SUN OCCASION ILLUSORY ASPECTS
Harpoons loll in our arms like children too old to be held. Along the horizon animals run, disappearing over the brink of snow.
A few toddy steps after them. Our own animal horizon.
Black toboggans of the future.
Christmas upside-down in the lake.
The white arms-and-legs hunch in accidental shelters, newly troubled by the color orange.
Their tracks fill up, making time. The sky continues to do what little it can.
UNOCCUPIED BY CERTAIN SEETHING CONTINGENTS
EYELESS AND TO WHAT TO CONNECT
ESTONIAN ICE, FINNISH ICE, NON-DENOMINATIONAL ICE LIKE CUTTING BOARDS
WITH FISH
EYES
LECTURE
You need a dread in a place like this, something more than ornery old tradition clawing up the walls.
Ours is fungus. It doesn't grow—nothing grows, this is Antarctica—but we like to make believe. Hank drops a spatula and I shriek at him to pick it up. The mold is setting in! I say. They've got us by the tongue!
I stay in one spot long enough and I can feel the mushrooms growing on my knees, tight grey flecks of information preparing for a rain that will never come. They thirst and scrape. The image gets me out of the chair, off the floor.
Hank was mycophobic, back on land. There's plenty of room for phobias here.
I keep trying for deathly-afraid, but I'm failing. I used to pray for distant relatives to expire for the simple sake of crisis. Now I hope aloud for mildew.
The Antarctic Circle, cold and deaf, shrugs. Its shoulders evaporate into the sky.
ABANDONED YELLOW FRONTIER
[ABANDONED ORANGE HEM
ABANDONED WALRUS
ABANDONED MAUVE RELINQUISHED HEART
ABANDONED LESSER TENTACLE
ABANDON] LESS THE FURTHER
LESS ONE SEVERAL YET
The old world ran with unpredictable dogs.
The old world was once the new world. We stumbled across ourselves. Found them completely naked.
Memories of hay fever. Of uneven sidewalks. Of a garden hose shattering the air.
No in and no out. No hierarchy. No beginning or end.
A soggy newspaper spread on the kitchen floor.
Brittle boxes of cereal.
MARK THE FO'C'S'LE
DELUDED ISLE
WITH FORTUNATE HANDS
RED WITH WHITE
LESS SPRINKLY
BORE, CLEAN
AND WELCOMING LANDS
THE CORPORATE
CORPSORATE
EMPTY
[[EMPTY!!]]
I want the same things we all want. A place to build a fire, something to burn, something to warm in the heat, something to put in my gut. A secure stance on hard ground. Nothing to melt too quick.
Dear God: I have everything.
Then again, what about the hunt? What about the game that has fled at our human angles, at our shadows that lengthen across the snow? What about blood?
I haven't bled since arriving.
Hank hasn't noticed. He'd have to be reminded. Men.
The way they are more afraid of what is in you that dies than what is out of you and will certainly kill.
The way what they call death is a life preparing. Blankness, too, can gestate. In the halt it has begun.
FUSILE, FREE, TIDINGS OF [CURLS OVER ITS RUBBER LEG] TORRID [BEGIN THE FALL]
ONE LESS HUMMING THEN HUMMING
VAIN ICE FLOW ALONG THE WRINKLE
VAIN ICE CATCH BEYOND THE BREATH
FUSILE, FREE, LANDMARK [LANDMARK] UNINHABITED [LANDMARK] NOW
Antarctica left me head-down in the snow, counting days for educated men who would not fly. The hard-heeled tap-on-ice. The somber household refrain: Be gone, little woman, and leave me to my fear. But not for long. Buy a serum. Buy a side of beef. Buy sandbags. His corona is already beginning to leak.
VACANT
VACANT
VACANT
VACANT
VACANT
VACANT
VAC
Hand over hand into benefit of the doubt, we swim through the black cloud of dishes undone and underwear on the bed. But the space is small. No room for triumph when you have to duck to get out the door.
Like hauling an elephant seal into the living room and gutting it. Like trying to dwell in its stomach. We could spread its guts on the plaster, paint the walls with blood, but where would that leave us? Under the watchful eye of rotlessness. Permanent art installation. Too cold even for a mistake to right itself.
The way things are going, I'd drown myself in ice in a minute. Then I'd be stuck, free from the passing time.
Some day, I dream, the ice will melt long enough to support immersion. Some night, the borealis will fall to us.
SO LESS
UNPACK VOID OF VOID
THANK YOU CHILDREN THE RIVETED MIND
Far too saccharine, his ten fingers on my neck. Hank's massage pulps my muscles. His optimism picks at me.
We'll make it, he says. We'll make it. Always: What is there to make?
Besides love, which we pursue in the style of a lion after a lioness trying to tend to her cubs. A perpetual motion into and away. A length of twine tied tightly to the mind.
The products right beside the process, staring at it wide-eyed. Wholly unaware of the swollen months that fall between.
WHY [IN THE MASSIVE COLOR OUT THERE]
WHY [EVERBLINDING FATE]
VARNISH
RATMOBILE
FRACTUROUS
ICE
BELAY
BEGOTTEN
RUST
LET THEM
TOIL THE RIND
FLAP
SOULS
FLAP
RUPTURE
[FOR]
Our nerves migrate to the ever-more-southern cities. Populations double: children of nerves.
The southern cities burn, smell like singed hair, torn car leather, speeches in favor of God forgotten and submitted to the ideology of distraction. Scroll and scroll.
If you know ink, remind your brother of it.
As his sister, your job is to collect the feelings and hold them under the snow. In time, they take on the characteristics of the uncharacteristically abandoned.
You like me, the feelings say, numb. You love me.
Do not believe them. In the sky they are driving to work, raining gas. Our synapses call out to each other the way mirrors call out to the drunk. If the southern cities ever stop burning, their reward will be one mute century and a single year, following that, of nakedness.
But we can see what they are even without that last year: stalks of itching hay stuffed in a pair of white jeans.
I SAID NO SINGLE THING
GET AWAY FROM THE FAN
[!!!!!!!!!!!!!!!!!!!!!!!!!!!]
NEXT TOUCH ME WITH THE SOIL OF YOUR COLD FACE
Maybe you can build something, even in the snow. Maybe I can kiss your cracked hand. Maybe we can rise at noon and eat gingersnaps out of the bag.
I know, I know. The hard part is yet to come.
The stars are not what we thought they would be. With mittens you can't point at constellations, can't trace a figure between the specks. Before we've guessed at a single story the sky is purple all at once, then green, and we're rushing inside to slowly thaw.
We change colors too, but only in relation to one another. There are some, slow truths. Biding their time as we make up games to pass the winter: War, Skirmish, Tear The Tissue Into Tinier And Tinier Bits.
When I say we change color I mean blood on the floor, deranged proposals with harpoon held aloft. Coffee table without coffee. White numbing light. You need to decide who is attacking and who needs to be saved.
BLADDER OF THE INCONSTANT SPOKE, TERROR BLISTERMEN OF NIGHT, SCALLOPED LACQUERED WOOD OF PROSPECT OF GARDENING, BILATERAL INCONSEQUENCE OF UNDERWHELMING UNDEFINED, TISSUE OF FLESHBOT, TISSUE THAT KNOWING FINGERS CEASE TO ALLOW, WHAT THAT BOMBING, ASIDE WHAT FERANGOUS KITE
The symbols cry out to us:
Xs in the eyes.
Blood-spotted pillow.
An eagle's caw.
The endless sun.
A window cracked from cold.
A seal outside it, barking.
This means the end is near, says Hank.
No. It means the end has come and already left.
COUGH READY NOW COUGH
BULLETLESS
RUPTURELESS
MARGIN
DESOLATE TENANT OF THE UNRUPTURED WHY
You can't hope without certainty. Trust me, I know. The battlements are the color of longing, which is the color of knowing that no one is coming home.
A set of keys that will work on something.
A miracle inching toward you on its hands and knees.
Frozen, the air is less turbulent to travel. Messages wing recklessly across Antarctica.
Everyone is convinced that nothing will shift, save for the restless penguins that waddle the horizon. This is not a place of change. It is a place of open eyes. A place of sun off snow. Of breath held.
Though no savior is due, we make a life of waiting. Everyone has every reason to fold.
NON-YES, NON-NO
BRACE FOR NOTHING
HALOGEN BRONCO
PERPENDICULAR PIPES
I want sorry. I want your white palms. I want your faulty canals, your half-headed promises, your veins. I want trust, though I cannot trust when I see only your tracks, and the tracks are only an image, and the image is only two clasped hands, cold and dry like the sky hurrying toward us. I want miserable. I want ache. Take those tracks and paint with them and we will talk. I want a humid rhythm. I want fear, yours and mine, hairless pallid skin, hole in the cranium for thoughtless squares of sky. I want bats to drop from the trees and take up in our hair. I want them to mate. I want to look into your eyes in the last moments of the earth and I want the end of the earth to come. You have been waiting all this time and now I am answering you: This is what I want, your arrow, your target, your bullseye, tied together and buried and excavated and burned to make water.
I won't touch you. I won't touch you even if you fall in.
For more information about this piece, see this issue's legend.
---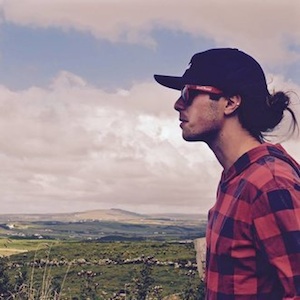 Dennis James Sweeney's hybrid fictions have appeared in The Collagist, Crazyhorse, Five Points, Indiana Review, and Passages North, among others. He is the Small Press Editor of Entropy and a PhD student in creative writing at the University of Denver.
81°45′ S, 143°30′ W
81°45′ S, 143°30′ W is a random coordinate in Marie Byrd Land, the largest unclaimed territory on Earth. My thinking is that there's no truer place. Non-duality and the reign of blankness aside, the texture I experience by moving through daily life in a man-made city often feels hardly more than superficial. I (try to) remain open to the fact that I am always lost.